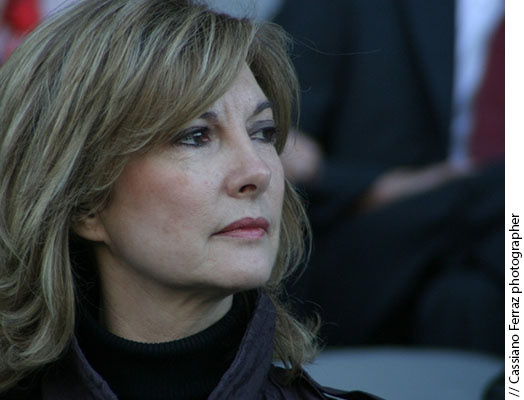 Isilda Pelicano
Nasceu em 1949, em Alfaiates (distrito da Guarda), reside e trabalha em Lisboa.
Com o curso de Design de Moda pelo IADE, desde 1991 cria e apresenta Colecções de senhora , que comercializa sob a etiqueta ISILDA PELICANO, tendo celebrado 25 anos de carreira em 2016.
Tem igualmente desenvolvido um trabalho significativo na área de Fardamento, salientando-se entre outros, os projectos para a CENTRAL DE CERVEJAS, LOJA DO CIDADÃO, PORTUGAL TELECOM na EXPO'98, UEFA EURO 2004, HPP - Hospitais Privados de Portugal, CORO GREGORIANO DE LISBOA, MUSEU DE S. ROQUE, JOGOS SANTA CASA e UEFA EURO 2008.
Vencedora do "Smirnoff Fashion Award" em Lisboa, com apresentação posterior dessa Colecção em Amesterdão, destaca-se ainda a participação regular em diversos certames e desfiles nomeadamente na FILMODA, PORTO DE MODA, PORTUGAL FASHION, FASHION BUSINESS ANGOLA, bem como participação em Júris de eventos de moda.
Em 2013, em paralelo com a sua Marca ISILDA PELICANO, cria um novo  projeto - JANS Concept -, que pretende ser o traduzir de uma paixão pelas "coisas" e pelas "artes" da natureza que visa a criação de peças de design contemporâneo inspiradas em técnicas artesanais, uma marca que produz peças têxteis trabalhadas manualmente – inspiradas nas técnicas de Arte Aplicada e Alinhavados, tradicionais da região de Nisa – cerâmica e objectos de cortiça. Um projecto de matriz cultural de divulgação das artes tradicionais do Norte Alentejano, uma forma de atrair jovens designers e artistas consagrados, para as reinterpretar de forma contemporânea preservando a memória e autenticidade da cultura local projectada em novos padrões de modernidade .
Distinguida com o "Prémio IADE Carreira 2011".
///
Regarded as one of Portugal's most distinguished fashion designers, 

Isilda Pelicano started her career in 1991 and since then has presented women's collections under her eponymous brand ISILDA PELICANO.​​​​​​​
Through the refined use of leather and luxurious fabrics and the combination of classic fine lines and a bold touch of the avant-garde, Isilda's distinct style reflects the elegance, flexibility, and autonomy of a woman's wardrobe.
Isilda's unique approach to fashion and uniform design has garnered her noteworthy admiration  in the area of uniform design. Clients have included the Portuguese Government, Portugal Telecom for the Expo '98, UEFA Euro 2004™ and UEFA Euro 2008™.
In 2013 launched the project JANS Concept, translating a passion for "things" and for "arts" of nature, a cultural and  lifestyle brand dedicated to  renew  the traditions of northern Alentejo,  that produces  superbly crafted clothes – inspired on a traditional Felt appliqué technique – ceramics and cork objects, unique objects with a contemporary design inspired by ancestral knowledge preserving the memory and authenticity of local culture designed in new modern standards diffusing the essence of the brand.  
In 2011 she  was awarded with a Career Prize " Prémio IADE Carreira 2011".